Data Modernization & Analytics
Artificial Intelligence & MLOps
Financial Services
Order.co transformed their data infrastructure on AWS, generating valuable insights to guide product innovation and improve customer experiences
---
As a result of our engagement, Order.co now has a healthy data culture, and is armed with the tools needed to scale their data infrastructure and add more data pipelines in the future.
Order.co is a fintech-enabled purchasing platform that simplifies buying for businesses. Order.co eliminates manual purchasing and payment tasks and gives your team one place to purchase, approve, track and pay for all the physical goods your business needs. With customizable budgets and reporting, operations and finance teams can take back control over the buying process and the entirety of their spend, so they can start spending efficiently.
Founded in 2016 and headquartered in New York City, Order.co oversees nearly half a billion in annualized spend across hundreds of customers like WeWork, SoulCycle, Lume, and High Level Health. Order.co has raised $50M in funding from industry-leading investors like MIT, Stage 2 Capital, Rally Ventures, 645 Ventures, and more. Order.co has been proudly named a 50 to Watch by Spend Matters and a Best Place to Work by BuiltIn.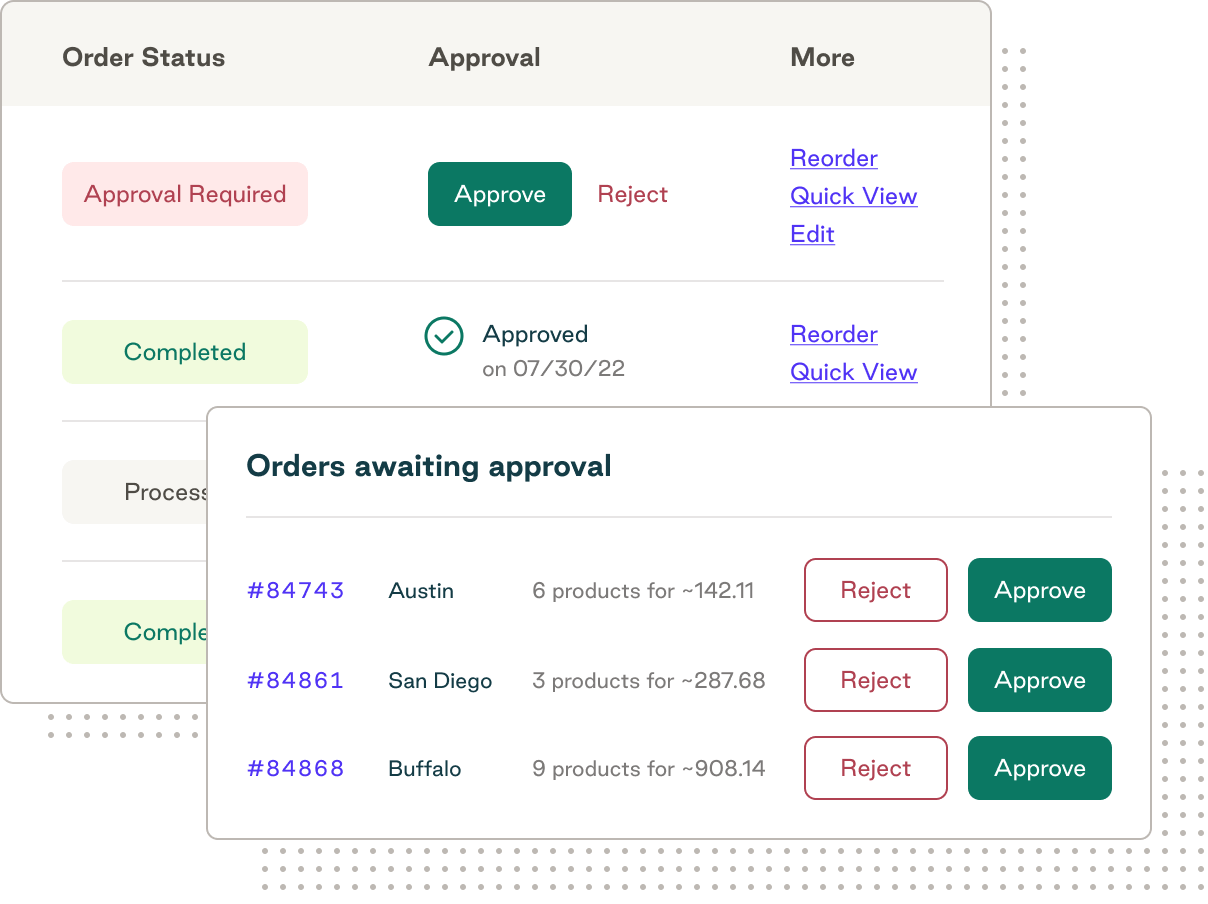 Challenge
Order.co was experiencing rapid growth as a company. They realized that their cloud infrastructure required excessive management, and work was needed to make the environment scale effectively, improve visibility and mitigate any security vulnerabilities (read how Caylent helped Order.co improve their infrastructure's visibility and security), so that they could maintain their velocity and support their growing user base. They also identified opportunities for improvement in the way they stored, accessed and generated insights from growing stores of data, created from 100s of millions of dollars in purchasing volume, and thousands of different products offered on their platform, as well as data around their customer behavior and platform usage.
The Order.co team had a large volume of data segmented across many different systems, and there was no workflow to generate insights. Even relatively basic reporting for their finance team had to be built manually and would take a lot of time. Wanting to maximize the value they offered to their customers and improve their internal processes, Order.co decided to invest into improving their data architecture.
The leadership team at Order.co wanted a flexible partner who would truly lean in for the long haul and not only provide well-architected cloud infrastructure but also proactively identify and recommend improvements to the environment in addition to contributing to the cloud-native strategy of the organization. They selected Caylent due to our high standards of quality, cost-effectiveness and our approach of embedding a pod of engineers into their team that could work closely with their engineers, provide ample documentation to enable a frictionless transition to their new infrastructure, and upskill their internal team through the process.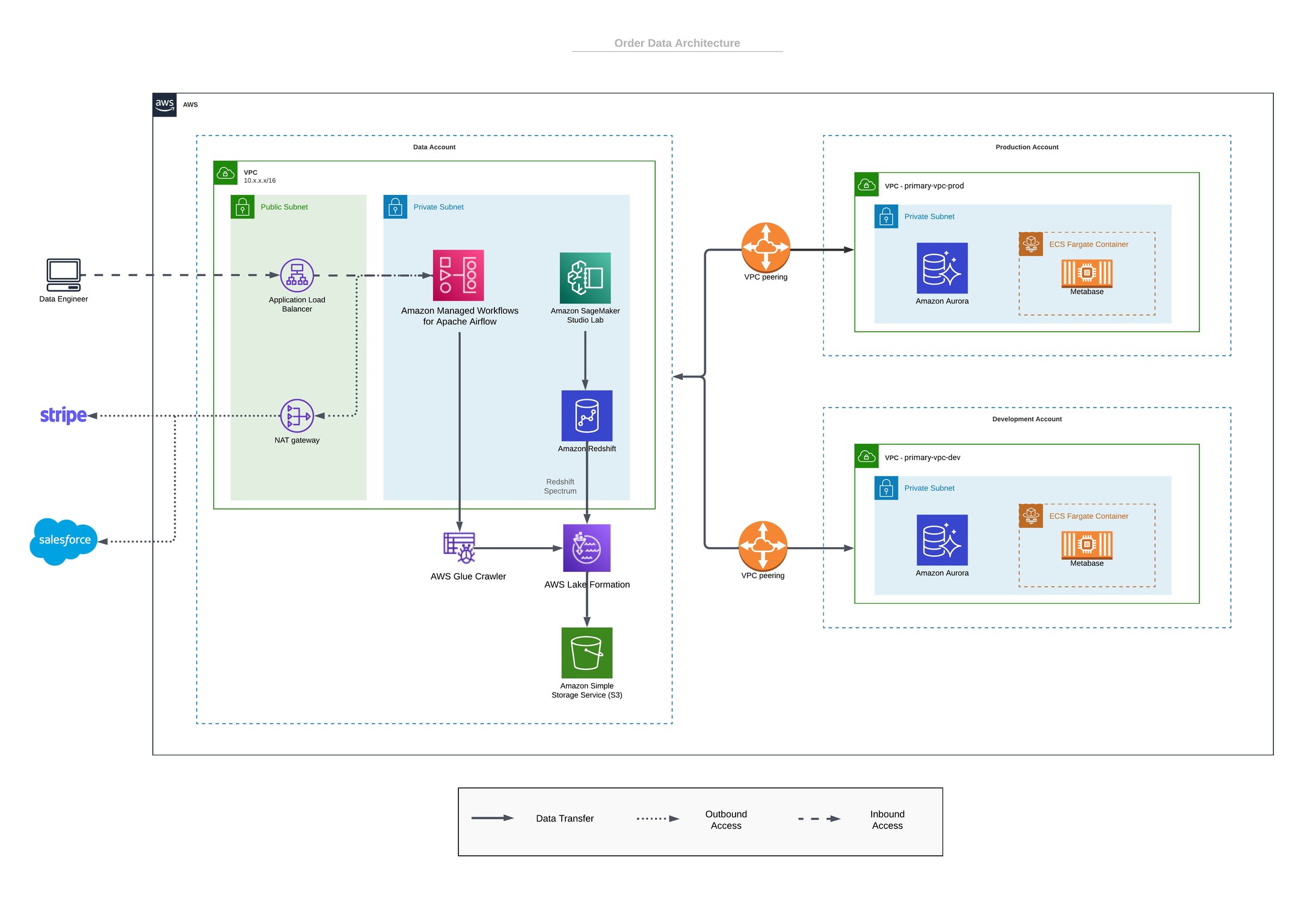 Solution
A Caylent data engineering pod was engaged to provide Order.co with the flexibility and range of AWS skill sets required. Caylent quickly aligned with Order.co, from the technical team to business leadership, to build a scalable solution that would support machine learning in the future. The requirements for that new structure were that the data should be provided in a specific timeframe, it should be tested, be of high quality, and should be pulled from several different sources, feeding reports and dashboards based on Order.co's needs.
The infrastructure delivered incorporated the following AWS solutions & services:
Data Lakehouse: A scalable storage solution to handle different types of formats and velocity, used Amazon S3 together with Amazon Redshift, which creates a cluster that could read from files that were optimized for analytical processing.
Orchestration: To organize more than 30 different sources and automations, the solution of choice was the Amazon Managed Workflows for Apache Airflow (MWAA) service, that enabled managing the data pipelines & testing the information delivered to guarantee a high standard of confidence in the KPIs.
Machine Learning: After most of the data architecture was set, Amazon SageMaker was introduced to help the data scientists be more productive. Caylent provided a data environment that would give more computation resources and serve a better pipeline to deliver machine learning models in production.
Results
This close partnership between our teams has allowed Order.co to leverage best practices and implement a data pipeline while allowing the organization to continue working at the velocity needed to support their growth.
The data infrastructure implementation on AWS, enables Order.co to empower their customers through two elements. First, the insights derived from their data help them offer better product recommendations in real time as customers actively shop on their platform, delivering savings and improving customer experience. Second, they are able to leverage their data to automate decisions, by using machine learning models and data science techniques, to provide the business team with the advantage they need to solve their problems faster.
Order.co now has a healthy data culture, and is armed with the tools needed to scale their data infrastructure and add more data pipelines in the future. They also have the reassurance of accurate data, helping them build confidence in their decisions, through both qualitative and quantitative analysis.
Here's some data on the results of the partnership between Order.co and Caylent:
More than 30 automations running hourly.
Close to 600 custom analytical models built to serve dashboards and reports.
2,100 tests are run every single hour, to assure data quality.
Order's teams save an estimated 5000 hours every year, as a result of the automations and solutions built by the Caylent data engineering pod.